Ratings

| | |
| --- | --- |
| Gameplay | 8.5 |
| Graphics | 8 |
| Sound | 9 |
| Difficulty | Medium |
| Concept | 9 |
| Multiplayer | 9 |
| Overall | 8.5 |
This excellent stand-alone expansion brings some much-needed Chaos to Dawn of War II.
Gameplay Screenshots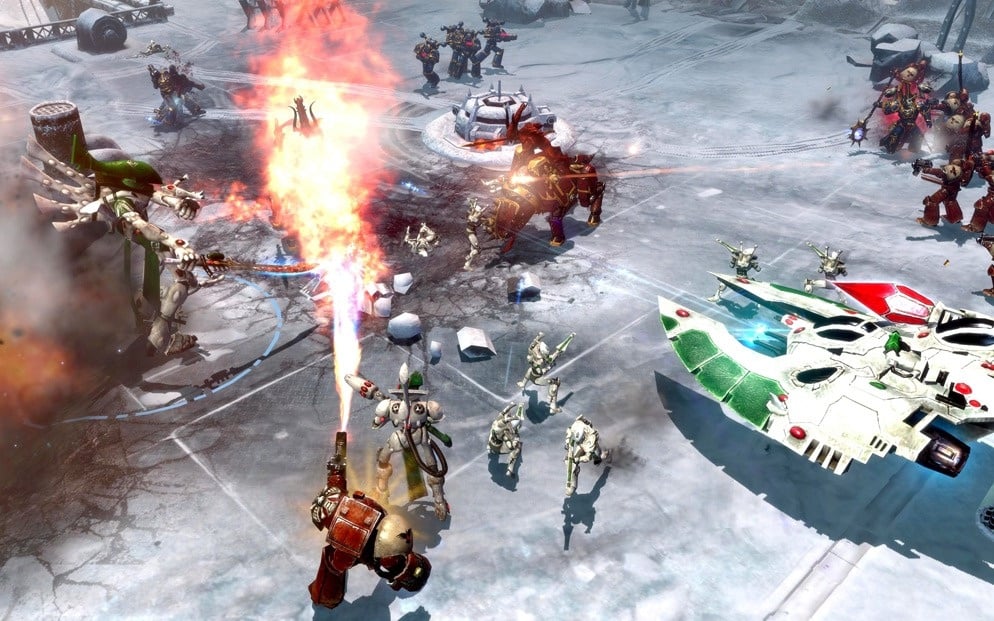 Description
In Dawn of War II: Chaos Rising you will take command of the Blood Ravens
and defend the sector against the Chaos Space Marines of the Black Legion.
Purge the chaos filth and hold the chapter together as traitorous forces
work from within to try bring down the Blood Ravens.
Features
*Upgrade your squads with new legendary wargear and unlock new special
abilities, as your squads advance to level 30. Will you remain steadfas
to the Emperor or risk heresy to gain new dark and destructive powers?
*In multiplayer swear loyalty to the Chaos Gods and pit your bloodthirsty
warband of Chaos Space Marines against the new units and reinforced armies
of the Space Marines, Orks, Eldar, and Tyranids.
System Requirements
Processor : Intel Pentium IV at 3.2 GHz (single core) or any Dual Core processor
Video Card : 128 MB VRAM – with Shader Model 3.0 support (nVidia GeForce 6600 GT / ATI Radeon X1600)
Memory : 1 GB RAM (XP) / 1.5 GB RAM (Vista)
Hard Disk : 6.5 GB of free Hard Drive space
Operating System : Microsoft Windows XP SP2 / Windows Vista SP1
Sound Card : DirectX Compatible
Direct X : 9.0
Controls : Mouse and Keyboard
Installation : DVD-ROM Drive

Download Links
Total Size:

7.56 GB

Fileserve Links

http://www.fileserve.com/file/WHMXhHq
http://www.fileserve.com/file/bhpYatF
http://www.fileserve.com/file/vXx8PYZ
http://www.fileserve.com/file/S8wsmC4
http://www.fileserve.com/file/4jguXUn
http://www.fileserve.com/file/E5QUxQQ
http://www.fileserve.com/file/HBD3X2n
http://www.fileserve.com/file/MRczeeN

Install Notes :

1. Extract RARs
2. Mount or Burn image
3. Run Installer.exe (when it ask for SID file you have to select it on your
dvd drive)
4. Copy the whole content from crack dir to your install folder
5.Install xlive from your install folder xxxxx\Install\gfwlivesetup.exe
6. Start DOW2.exe

Create a xlive offline profile for save and load.