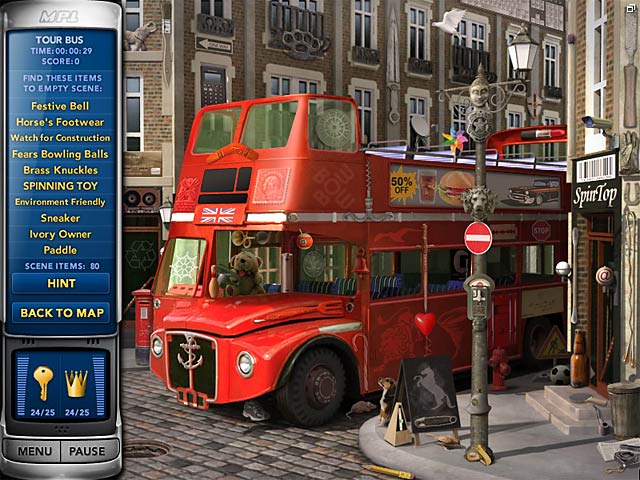 Release Date: 01-03-2011
Platform: Xp/Vista/7
Company: Focus MM
Files: 35 x 15MB
Format: BiN/CUE
Language: English
Game Date: Oct 2010
Genre: Puzzle
You're the world famous Mystery P.I. and you've been
hired to track down the stolen Crown Jewels.
Search intriguing London settings to find over 2,000
hidden objects to solve this caper.
If you return the jewels to the Royal Family you'll
receive a generous reward.
But hurry you have only 17 hours before the ransom
is due!
Features
* Investigate 25 intriguing London locations to find
the clues
* Enjoy three fun game modes: Solve the Caper and 2
unlimited bonus modes
* Play 9 different mini-games including Match-3,
Word Search and Tile Rotation
* Unlimited Deluxe version no Internet connection
needed
* From the makers of Bejeweled
* Find Hidden Crowns and Keys
* Play Mini-Games Galore
* Investigate London locations

•Windows 7/Windows XP/Windows Vista
•350 MHz Pentium 2 or equivalent
•256MB RAM
•DirectX 7.0
– Unrar
– Burn or Mount Bin/Cue
– Install and enjoy….
Download Links
Total Size:

498.93 MB

http://www.fileserve.com/file/2stGE96

No Password