Ratings

| | |
| --- | --- |
| Gameplay | 8.4 |
| Graphics | 8.8 |
| Sound | 9.1 |
| Difficulty | Easy |
| Concept | 8.3 |
| Multiplayer | 8.1 |
| Overall | 8.8 |
"Epic" doesn't quite begin to describe the scope and scale of the latest Total War game–there's a lot of strategic depth, with plenty of amazing combat to enjoy.
Gameplay Screenshots
Description
Medieval II: Total War, the indirect sequel to 2002's Medieval: Total War and the fourth game in the Total War series from The Creative Assembly, is a game of turn-based strategic rounds and real-time tactically-oriented battles. The game is set between the years 1080 and 1530. Like the original Medieval: Total War, it focuses on medieval warfare, religion and politics in Europe, North Africa and the Middle East. However, unlike its predecessors, the game has a tech tree which spans to the gunpowder age at the end of the game. The timeframe stretches into the era of the historical discovery of the New World, and simulates the discovery and conquest of the Americas. Medieval II is built on the code base of Rome: Total War.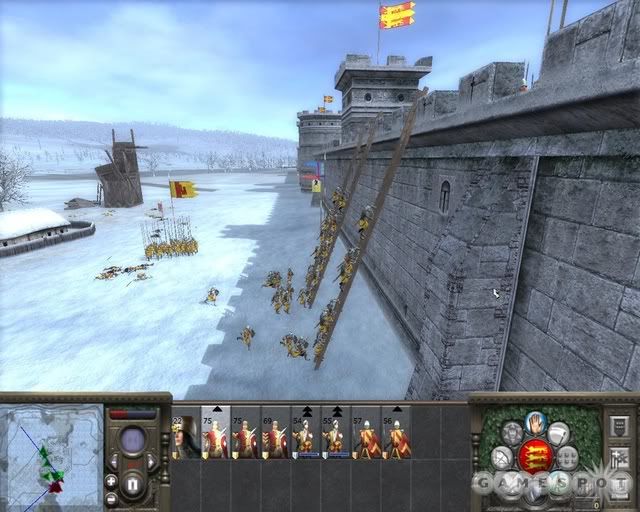 Features
* The campaign allows the player to assume control of a faction of the time period, and build a civilization.
* Players may convert a settlement to a different type, although larger cities may not be converted into castles.
* Diplomats can be used for diplomatic negotiations with other factions.
System Requirements
Minimum System Requirements
OS: Windows 2000/XP
Processor: Pentium 4 @ 1.5 GHz
Memory: 512 Mb
Hard Drive: 6 Gb free
Video Memory: 128 Mb
Sound Card: DirectX Compatible
DirectX: 9.0c
Keyboard
Mouse
DVD Rom Drive
Recommended System Requirements:
System:    Pentium 4® 2.4GHz (2400MHz) or equivalent AMD® Athlon 64
RAM: 1024 MB
Video Memory:Â Â Â  256 MB
Hard Drive Space:Â Â Â  9000 MB
Other:Â Â Â  128MB Hardware Accelerated video card with Shader 2.
Installation Notes:
1. Mount Medieval 2 Total War\MED2TW_1.iso (with Daemon Tools or Alcohol 120%)
2. Autoplay should popup
3. Click Run "Launch.exe"
4. The setup menu should popup
5. Click the button "Install"
5a. If you are using Vista it will ask for administrative privileges
6. Click the button "Next"
7. Click the radio button "Yes, I accept the terms of the license agreement"
8. Click the button "Next"
9. For the CD-Key enter "JiNi-iSTH-EBES-T123" (Without the quotes)
10. Click the button "Next"
11. Set Folder to Install (Recommended to be left alone)
12. Click the button "Next"
13. Choose to have a shortcut or not
14. Choose normal or widescreen
15. Choose to update Direct X (Recommended)
16. Click the button "Install"
17. Wait for it to install
18. When prompted to insert disk 2 (contains the file main\movies\demo_mtw2_campaign.bik),
Unmount Medieval 2 Total War\MED2TW_1.iso
19. Mount Medieval 2 Total War\MED2TW_2.iso (same drive)
20. Ignore Autoplay
21. Click Ok in the Installation Window
22. Wait for it to install
23. When completed click the button "Finish"
23a. If prompted to restart, restart your computer
24. Run Medieval II Patch 1.2.exe
24a. If you are using Vista it will ask for administrative privliages
25. Wait for it to extract
26. Menu should popup, click the button "Next"
27. Wait for it to install
28. Click the button Finish (Have "Yes, I want to restart my computer now" selected)
29. Wait for your computer to restart
30. Extract Medieval II Patch 1.3 manually
31. Run "setup.exe"
31a. If you are using Vista it will ask for administrative privileges
32. Menu should popup, click the button "Next"
33. Wait for it to install
34. Click the button "Finish"
35. Take Crack\medieval2.exe and replace the medieval2.exe in C:\Program Files\SEGA\Medieval II Total War

Download Links
Total Size:
7.67 GB
Fileserve Links
http://www.fileserve.com/file/8Ast3P2/Medieval.2.Total.War.1GB.Links.part1.rar
http://www.fileserve.com/file/Traf2bf/Medieval.2.Total.War.1GB.Links.part2.rar
http://www.fileserve.com/file/cM89V7b/Medieval.2.Total.War.1GB.Links.part3.rar
http://www.fileserve.com/file/aedtAqY/Medieval.2.Total.War.1GB.Links.part4.rar
http://www.fileserve.com/file/qUjX3w6/Medieval.2.Total.War.1GB.Links.part5.rar
http://www.fileserve.com/file/Dp78P52/Medieval.2.Total.War.1GB.Links.part6.rar
http://www.fileserve.com/file/f2a8757/Medieval.2.Total.War.1GB.Links.part7.rar
http://www.fileserve.com/file/RK48jn9/Medieval.2.Total.War.1GB.Links.part8.rar
CD-Key: JiNi-iSTH-EBES-T123





Medieval.2 Crack
http://www.fileserve.com/file/2r2G5Qv/medieval.2.crack.rar







 




Medieval II Patch 1.2 ( Optional )




http://www.fileserve.com/file/NvnVU3J




Medieval II Patch 1.3 ( Optional ) 




 http://www.fileserve.com/file/WuruprX