SIZE: 2.29 GB
Gameplay Screenshots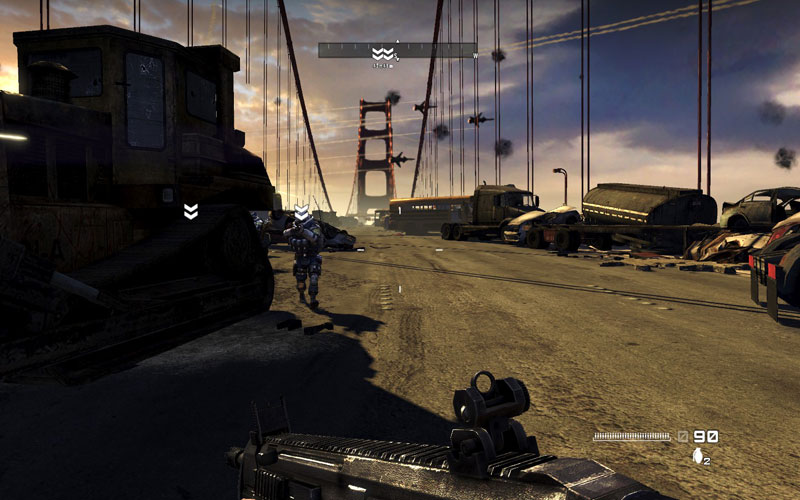 screenshot2
Description
Game Name: Homefront
Game publishers: THQ
Game production: Kaos Studio
Game Language: English
Genre: Shooting/FPS
In 2013, one year (according to the game's fictional timeline) after the death of Kim Jong-Il, North Korean leader Kim Jong-un reunites North and South Korea to form the Greater Korean Republic. The influence of China and the United States decline in the face of continued economic stagnation and a war between Iran and Saudi Arabia that disrupts Middle Eastern oil supplies, while oil and gas to Western Europe is cut off by a Russian-Ukrainian "mutual interest" deal. As the United States withdraws overseas troops to deal with domestic instability, including the Texas secession debate and an outbreak of bird flu known as the Knoxville Cough, the Greater Korean Republic annexes Japan and Southeast Asia. By 2022, the United States faces extreme economic turmoil and massive social unrest, culminating in complete economic collapse. On January 16, 2025, a satellite, launched under the cover of a program to replace the decaying Global Positioning System, detonates a high-altitude nuclear weapon over the continental United States. The destruction of above-ground electronics across the country by the massive resulting electromagnetic pulse is followed by the Greater Korean Republic seizing Hawaii, an invasion of San Francisco, paratrooper deployments across the Midwest, and the irradiation of the Mississippi River to divide the United States in half, leaving the American military isolated and scattered and U.S. residents to resist the invasion on their own.
Features
Take the battle online, experiencing large scale multiplayer action like never before in epic infantry and vehicle warfare
Discover a terrifyingly plausible near-future world in which the familiar has become alien in this nightmare vision of Occupied USA
Fight for a cause joining a cast of memorable characters as your resistance cell wages a guerrilla war against overwhelming military odds in the name of Freedom
Witness the human cost of war in a gripping story from the pen of John Milius is told through immersive, interactive 1st person cut scenes
Experience explosive FPS gameplay as you battle through a dynamic mix of infantry and vehicle combat in a gripping single player campaign boasting intense, memorable set pieces
System Requirements
Minimum system:
OSÂ Â Â  : Windows XP or Windows Vista or Windows 7
CPUÂ  : Core 2 Duo 2.4 GHz or AMD Athlon X2 2.8GHz.
RAM : 2 GB
Graphics : Support Shader Model 3.0,256 MB equivalent or higher, NVIDIA GeForce 7900GS or ATI Radeon 1900XT
HDD : 10GB
Recommended
OSÂ Â  : Windows Vista or Windows 7
CPU : Quad Core 2 GHz
RAM:2 GB
Graphic : NVidia GeForce 260或ATI Radeon 4850
HDD : 10GB
Installation Notes:
Extract
Install the game
Start the game
Update 1 ENGLISH:
You can change language to English by installing Update 1 before starting game each time.
Download Links
SIZE: 2.29 GB

Update 1:

http://www.filesonic.com/file/qy4Djf2/Homefront.Update.1-SKIDROW.rar

Filesonic:

http://www.filesonic.com/file/ir4sWY7/HomeFront.Incl.Update1_CHS.Repack-ALI213.part1.rar
http://www.filesonic.com/file/x9X72mR/HomeFront.Incl.Update1_CHS.Repack-ALI213.part2.rar
http://www.filesonic.com/file/JHo0oPg/HomeFront.Incl.Update1_CHS.Repack-ALI213.part3.rar

Mirror:

http://www.fileserve.com/file/4MAcuzE/HomeFront.Incl.Update1_CHS.Repack-ALI213.part1.rar
http://www.fileserve.com/file/FmHMSvQ/HomeFront.Incl.Update1_CHS.Repack-ALI213.part2.rar
http://www.fileserve.com/file/XyCWDPH/HomeFront.Incl.Update1_CHS.Repack-ALI213.part3.rar