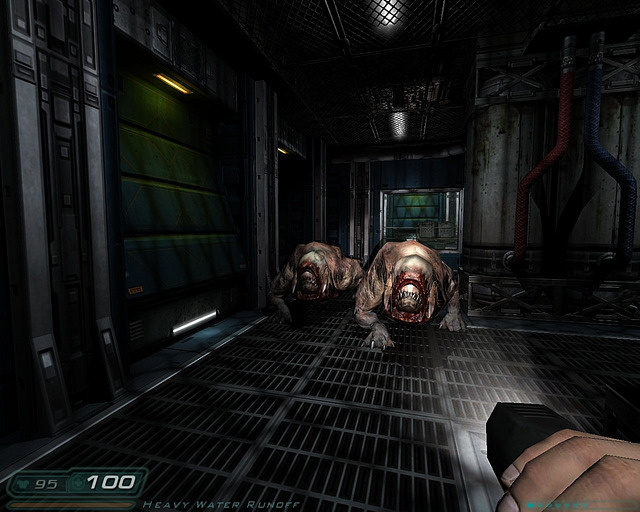 A massive demonic invasion has overwhelmed the Union Aerospace Corporations'
(UAC) Mars Research Facility leaving only chaos and horror in its wake.
As one of only a few survivors, you struggle with shock and fear as you fight
your way to Hell and back, in an epic clash against pure evil.
– The most intensely realistic and visually stunning game ever created; with
graphic fidelity never before seen in video games outside pre-rendered CG
movies.
– Dripping with atmosphere and changing the look of 3D games forever, DOOM 3
features realistic physics, 6-channel surround-sound, and real-time
dynamic lighting and shadows that create an environment of ever-changing
fear and uncertainty.
– Compete in vicious multiplayer action where light, shadows, and a totally
dynamic world can be used to your advantage or peril.

P4 1.5Ghz CPU (or equivalent).
384MB of RAM.
64MB graphics card (see below for chip details).
2GB of free hard drive space.
Lowest supported GPU is a Geforce 4 MX (worse than Geforce 3).
Radeon 8500s, 9000s and higher

1. Unrar
2. Install
3. When prompted for a serial during install enter one of the following:
(see nfo)
4. Copy over the Cracked Exe from CD1 located in the /Crack dir
5. Play
Download Links
Total Size:
1.71 GB

Fileserve Links
http://www.fileserve.com/file/JxJfTfu
http://www.fileserve.com/file/Wpku5uB