HI2U group released "Doctor Who" game based upon well know TV series.
Doctor Who: The Adventure Games is a series of four episodic third-person adventure games, based on the BBC TV series Doctor Who and developed by Sumo Digital. Charles Cecil served as executive producer and worked with Sean Millard and Will Tarratt on the design. Each episode is being made available for free download by residents of the UK from the official website of Doctor Who. A UK internet address is required to both download and play them. The first one was released on 5 June 2010, the second one released on 26 June 2010, the third released on 27 August 2010 and the fourth released on 25 December 2010. The Adventure Games have been recommissioned by the BBC for a second series in 2011.
Description of the four episodes:
Tardis
~~~~~~
With the TARDIS caught in a time riptide, it's up
to Amy to save the day or leave the Doctor trapped
in the void forever. Meanwhile, a dangerous entity
is roaming the TARDIS corridors and it hasn't been
fed for a very long time…
Blood of the Cybermen
~~~~~~~~~~~~~~~~~~~~~
The Doctor and Amy materialize in the Arctic –
where members of a survey team are turning from
flesh to metal and digging something sinister from
under the ice that's been waiting thousands of years
– an army of Cybermen!
City of the Daleks
~~~~~~~~~~~~~~~~~~
The TARDIS materializes in 1963 to find the human race
crushed by the Daleks. The Doctor embarks on a quest
to the Dalek planet to correct time and save the
last survivor of Humanity – Amy Pond!
Shadows of the Vashta Nerada
~~~~~~~~~~~~~~~~~~~~~~~~~~~~
The Doctor and Amy discover a sub-aquatic
base that's been attacked by a sea monster from
another world, but its crew are living in fear of
something else – a voracious horror that hides
in their shadows. The Vashta Nerada.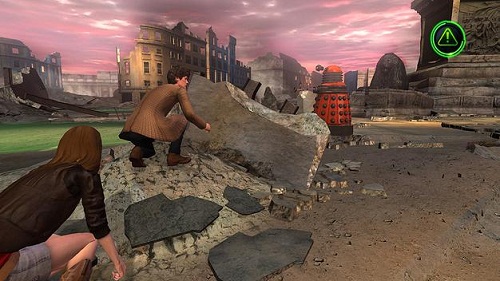 OS: Windows XP Service Pack 2
CPU: Intel Pentium 4 1.6 GHz+ or AMD Sempron 2800 + or higher
Memory: Windows XP / Windows 7 – 512 MB, Windows Vista – 1GB
Hard drive space: 2GB (plus additional working space)
Graphics hardware: 100% DirectX 9 or above compatible. 128 MB memory. Pixel Shader 2.0 or above with the latest drivers for your card.
Sound hardware: DirectX 9 compatible
Unrar, mount image, install all 4 packages & copy the crack provided to the installed dir.
Download Links
Total Size:

1.38 GB

Fileserve Link(s)

http://www.fileserve.com/file/cXeZawe
http://www.fileserve.com/file/aVyzVSu

No Password