Release Date:

Nov 30, 2010
Ratings

| | |
| --- | --- |
| GamersLove Score | 7.8 |
| Editors Score | 7.8 |
| Users Score | 8.1 |
| Overall | 8 |
DeathSpank: Thongs of Virtue picks up right where the original left off.
Gameplay Screenshots
Description
Join DeathSpank in the hunt for the Thongs of Virtue! Fight through war-torn battlefields, tame the High Plains and sail the savage seas. Experience fast paced action-RPG combat with over 150 quests and tons of weapons, armor and loot to collect
Hilarious NEW Story of EPIC Proportions: Guide DeathSpank on
an all new voyage spanning massive war-torn battlefields
savage seas, and more as he hunts down magical thongs in an
effort to combine their powers and create peace and harmony in
the universe
All NEW Loot to Collect!: Vanquish evil using an all new array
of weapons, armor, and loot spanning different eras of
history
Sidekick Co-Op Mode is BACK, and it Brought A Friend: Grab a
friend and choose one of two hilarious sidekicks to help save
the world in co-operative couch play. Use your magical skills
as Sparkles the wizard or your kung-fu moves as the new
ninjatastic Steve
Tons of Hilarious NEW Quests and Characters: Battle your way
through over 150 new quests and puzzles and meet a brand new
cast of hilarious characters in the funniest game ever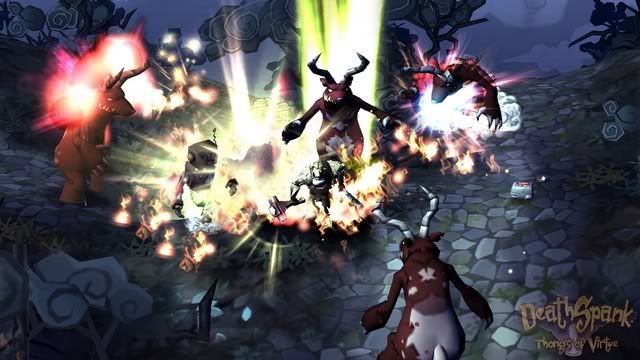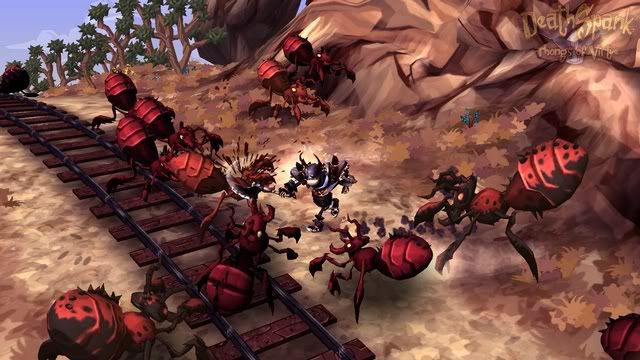 Rating:
T
Developer:
Hothead Games
Genre(s):
Role-Playing
Number of Players:1 PlayerESRB Descriptors:Blood, Cartoon Violence, Crude Humor, Mild Language, Sexual Themes, Use of Alcohol
System requirements
Minimum System Requirements
o OS: Windows XP/Vista/Windows 7
o Processor: Intel Pentium 4 (or equivalent) running at 1.7 GHz or greater
o Memory: 1 GB of ram, 1.5 GB (Vista and Windows 7)
o Hard Disk Space: at least 2 GB of free HD space
o Video Card: ATI Radeon X1900 GT 256MB and the Nvidia GeForce 6800 Ultra 256MB cards; Shader 2.0 and 24 bit depth buffer support required
o DirectX®: DirectX9 Jun 2010
o Local co-op requirements: A controller is required for the second player
NOTE : This is a THETA release, but I custom packed it.
Installation Notes
1. Copy contents of folder included within to where you have installed DeathSpank – Thongs of Virtue.
2. Overwrite everything.
3. Play the game.
Download Links
Total Size:

1.45 GB
Main Game

http://www.fileserve.com/file/sGEM3BJ
http://www.fileserve.com/file/NzgS4Nw

DLC 1 + 2

What the DLC actually adds:

* The Snowy Mountain Dungeon (DLC Pack 1): Be alert brave hero! A freezing yet terrifying dungeon has opened up in the Snowy Mountains! Horrible enemies of ice, flesh and terror await DeathSpank in this, the greatest expansion of all time!

* Tankko the Warrior (DLC Pack 2): A new warrior is ready to join the battle for Justice! Tankko the warrior is half-man, half-monster, all awesome! Tankko inspires fear in enemies and slight discomfort among friends.

http://www.fileserve.com/file/PdgKuYX

No Password