Ratings

| | |
| --- | --- |
| Gameplay | 9.4 |
| Graphics | 9.7 |
| Sound | 9.4 |
| Difficulty | Hard |
| Concept | 9.8 |
| Multiplayer | 9.1 |
| Overall | 9.5 |
Crysis is visually stunning, packed with intelligent, thrilling gameplay, and easily one of the greatest shooters ever made.
Gameplay Screenshots
Description
Crysis is a a stunning technical achievement, Crysis combines incredible visuals, cunning gameplay and an epic story that challenges gamers to adapt to survive.
Global tensions have reached boiling point as the U.S. and North Korea square off in the South China Sea. At stake: a mysterious artifact uncovered by a team of U.S. archeologists.
The North Korean government quickly seizes the area, prompting the U.S. to dispatch an elite team of Special Forces operatives on a rescue mission. During the siege the true nature of the artifact quickly emerges, pointing to the existence of an alien presence on Earth, and ultimately the trigger for a massive-scale alien invasion.
The battle to save Earth begins as the aliens' flash freeze the tropics into a ghostly-white frozen landscape.
As gamers take up arms against the aliens, they will be outfitted with customizable weapons and a high tech Nanosuit, allowing them to adapt their tactics and abilities to a hostile, ever-changing environment and a mysterious enemy.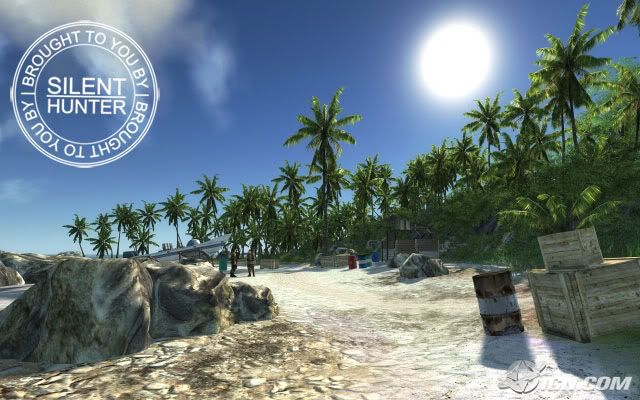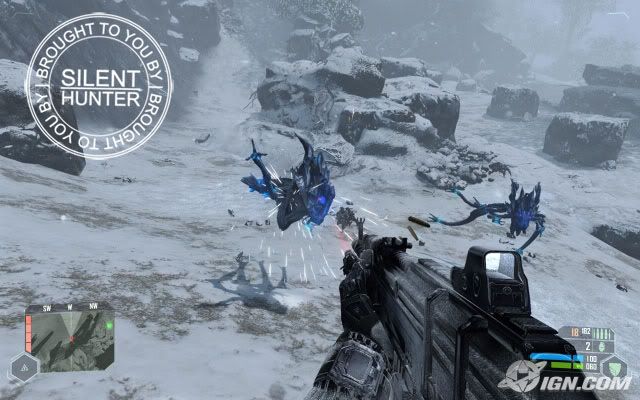 Powered by CryENGINE 2, Crysis delivers the ultimate DX10 gaming experience for the PC, including unparalleled graphics, special effects and artificial intelligence. The game is also scaleable to deliver a breath-taking FPS experience for older DX9 PCs.
Features
Adapt to Survive – An epic story thrusts players into an ever-changing environment, forcing them to adapt their tactics and approach to conquer battlefields ranging from newly frozen jungle to zero-gravity alien environments.
Suit up! – A high-tech Nanosuit allows gamers to augment their abilities in real time on the battlefield. Players can choose to enhance their speed, strength, armor and cloaking abilities to approach situations in creative tactical ways
Customizable Weaponry – A huge arsenal of modular weaponry gives gamers unprecedented control over their play style. Blow the opposition away with experimental weapons, discover alien technology and utilize custom ammunition from incendiary-tipped rounds to tactical munitions that can silently put foes to sleep.
Veni Vidi Vici – Lifelike enemy AI challenges players to assess a situation and approach it strategically. It isn't about having the fastest trigger finger – players are challenged to be proactive in the fight, not reactive.
Zero-G Gameplay – Battle a horrifying alien species in a true Zero-gravity environment, where physics change everything as players must adapt to moving in Zero-G and contending with the recoil from their weapons and more.
Next-Generation Graphics – Built from the ground up using Crytek's proprietary CryENGINE 2™, Crysis' visuals define "state of the art," with full DX10 support and scalable options to deliver solid performance on older machines.
Open, Physicalized World – Choose your own path through the open world of Crysis, destroying obstacles, driving vehicles from VTOL's to boats and using the environment itself against your enemies.
Bring it Online – Full-featured multiplayer for up to 32 players with real-time armor and weapons customization. For a pure adrenaline fix hit the Instant Action button, or prepare yourself for the all-new multiplayer PowerStruggle mode that combines economy and vehicle warfare, alien technology and ranking, all wrapped in a strategic objective-based experience.
System Requirements
Minimum System Requirements
OS: Windows XP/Vista
Processor: Pentium 4 @ 2.8 GHz (3.2 GHz for Vista)
Memory: 1 Gb
Hard Drive: 12 Gb free
Video Memory: 256 Mb
Video Card: nVidia GeForce 6800 / ATI Radeon 9800 Pro
Sound Card: DirectX Compatible
DirectX: 9.0c
Keyboard
Mouse
DVD Rom Drive
Recommended System Requirements
OS: Windows XP/Vista
Processor: Intel Core 2 DUO 2.2 GHz / Athlon 64 X2 4400+
Memory: 2 Gb
Hard Drive: 12 Gb free
Video Memory: 512 Mb
Video Card: nVidia 8800 GTS
Sound Card: DirectX Compatible
DirectX: 9.0c
Keyboard
Mouse
DVD Rom Drive
Total Size:
4.01 GB
Download Links

Fileserve Links

http://www.fileserve.com/file/w3u3dsj
http://www.fileserve.com/file/YjAZj8B
http://www.fileserve.com/file/EjKghkY
http://www.fileserve.com/file/ZwjuRv8
http://www.fileserve.com/file/ZGEKr2q
http://www.fileserve.com/file/jdzHdJH
http://www.fileserve.com/file/8WUjMm8