Release Date:

Nov 3, 2010
Ratings

| | |
| --- | --- |
| | |
| GamersLove Score | 6.5 |
| Editors Score | 6.2 |
| Users Score | 6.8 |
| Overall | 6.5 |
Gameplay Screenshots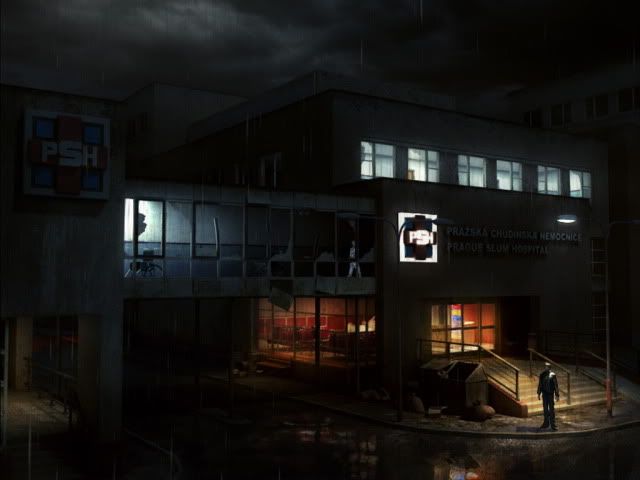 Description
Alternativa is a story that will take you to a world much different to what you'd expect in 2045. To a world destroyed by war and revolutions, a world led by an oppressive and cruel dictatorship. Classic point&click adventure game based on the original sci-fi/cyber-punk script which is composed of a number of shorter stories that lead us through the lives of individual characters as well as the fictional world of the future. Non-linear storyline full of unexpected turns, at times spine-chilling atmosphere, logical tasks, historical and scientific facts.
What's Good
Let's start with the positive. Alternativa, (from Czech developer Centauri Production) looks great. It has the gritty dystopian cyberpunk environment down to a tee. Robots twitch in alleyways, steam rises in the background, lights flicker. Cut scenes look good and add to the story where needed. Characters look great too – your typical "guy in leather jacket" design, but good none the less. The art team did a wonderful job.
Game mechanics are quite good too. The inventory system is very straightforward. You're never required to manage a billion items at a time (this is due to a detrimental game mechanic I'll discuss in the next section though); The item interface isn't overly complex: (Look, Talk, Use) and you can quickly find all the hotspots in a scene by hitting tab.
Developer:
Centauri Production
Genre(s):
Adventure Games
System requirements
Minimum System Requirements
– OS: Windows XP or Windows Vista
– Processor: Intel Pentium IV 2.0 GHz or compatible
– Memory: 2 GB RAM
– Graphics: Graphic card with 512 MB RAM (Shader 2.0 compatible)
– DirectX : DirectX : 9.0c
– Hard Drive: 2 GB free space
– Sound: DirectX 9.0c compatible sound card
Installation guide
1) Download the game from links below.
2) Put all the game parts in one folder and extract using WINRAR OR HJSPLIT.
3) Once completed there should be an .ISO file. Download ULTRA ISO software.
4) Now mount the .ISO file. Right click on the .ISO file and click mount, alternatively open .ISO file in ultra ISO and see mounting option.
5) This will create a virtual drive just like a DVD Drive, open it and run setup.exe. After than its easy to install. 😛
6) Apply the crack.
Download Links
Total Size:

1.68 GB

Fileserve Links
http://www.fileserve.com/file/FymryMs
http://www.fileserve.com/file/8UeDm48
http://www.fileserve.com/file/A8qB8WM
http://www.fileserve.com/file/NbWBzfS
http://www.fileserve.com/file/Z8m3AQN

No Password